This post may contain affiliate links. If you buy thru these links, we may earn a commission at no additional cost to you.
---
If you are just taking up the sport of fly fishing, believe me when I say that you really do need a fly fishing vest.
The vest that you choose, including the number of pockets it contains, and the material that it's made of will depend on your fly fishing style (how much gear you have and whether you like to change things up a lot or not) and the places you tend to go fly fishing (fresh water, salt water, creeks, streams or big rivers).
You see, when you're out on the water enjoying a day of fly fishing, you need to be able to put your hands on your flies and other fishing tools quickly. A fly fishing vest helps you do just that!
Here are some tips for choosing the best fly fishing vest for you…
Pockets
Did you know that a fishing vest with a lot of pockets is not necessarily the best?
The key to a good fly fishing vest is its ability to help you stay organized. That means, you need to know which pocket your favorite fly is in. The same is true with all of your other fly fishing gear.
But if your fly fishing vest has too many pockets, you will tend to forget where you put things. As a result, you will be searching frantically for that favorite fly or other tool. Chances are, you'll also be moving around and disturbing the water — sending the fish into hiding. You won't catch any fish that way.
So, when choosing a fly fishing vest, pick one that has:
Pockets of various sizes, but just enough pockets to hold the items you use the most.

Both large and small pockets can be useful, depending on your specific needs.

Some pockets should have zipper closures to keep small items safe and secure while others should be open, making it easy to grab & go.

Attachment points (or loops, D-rings) also come in quite handy when you're fishing. They give you easy access to a select number of fishing tools — so you don't have to dig into pockets while you have a fish on your line.
Size:  Regular vs Large
Typically, the length of your fly fishing vest is determined by the type of water you'll be fishing in.
If you will be fishing in salt water, you may want to purchase a chest pack instead of a fishing vest. Chest packs are designed to hold the absolute minimum equipment you'll need. Standard fly fishing vests are often too long for wading in deep water, salt water will soak into them making them feel heavy and awkward.
Standard fly fishing vests typically cover most of your upper body. The pockets of these vests allow ample room for things like fly fishing tools, fly boxes, and tippet spools.
Larger fly fishing vests have enough storage space for things like rain gear, a camera and your camping tools. This alleviates the need for an additional backpack or tote bag.
If you're purchasing a large fishing vest, just be sure it fits properly and has ample room to distribute the weight of all your fly fishing equipment. Otherwise, you will suffer from a sore back and neck.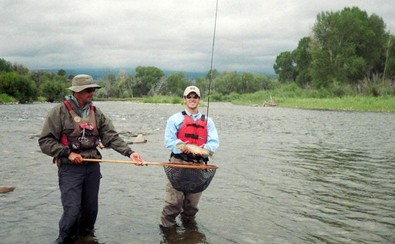 Fabric

Fly fishing vests are made using a wide variety of fabrics.
Take the location and the climate of your favorite fly fishing spot into consideration when choosing your fly fishing vest. If you travel extensively and enjoy a number of fly fishing trips each year to different climates, then you should consider purchasing a couple of different fishing vests.
Stretch mesh tends to move with you, and many fly fishermen prefer this type of material.

Other vests are made of fabric with a mesh lining, which allows for good air circulation when it's hot outside.

Cotton/polyester vests are best when fishing in cooler climates.
 
Most important of all… when you pick a fly fishing
vest to meet your specific needs, make sure that it fits properly!

RELATED:

How To Choose A Fly Fishing Vest

Ladies Fishing Vests

Guide To Buying A Fly Fishing Vest
 
I enjoy writing about my life experiences — including the fun times I've had while fishing and enjoying nature. In my fly fishing articles I like to share helpful how-tos to help newbies grasp the most basic concepts of fly fishing.