This post may contain affiliate links. If you buy thru these links, we may earn a commission at no additional cost to you.
---
I love to give gifts. I hate to go shopping.
I don't like to go shopping for gifts. I like to go buying.
What I mean is, I hate to go to a store and wander around aisle after aisle without something specific in mind. Every time I do that, I find myself walking in circles like an adventurer with a broken compass. It seems as if every aisle starts to look the same, just like trees in the forest. Searching, hoping something will catch my eye and shout "Hey, you! Mr. clueless lost man! Buy me! I'm the perfect thing. BUY MEEEeeee!!!!"
I hate that part. I like to have a pretty good idea of what I want to buy for someone long before I go to a store. Once I know what I want, I'll go to a store, inspect the item up close and if it suits my expectations, I make the purchase. Hopefully, they gift wrap because that's another thing I'm not fond of doing.
Seeing as how Valentine's Day is just around the corner, I'm taking some advice from a blogger friend of mine. Her name is Meridith and her family likes to fly fish. She sometimes writes about it on her website about Brentwood, TN. Check it out. She gave me the idea about putting together a list of Valentine's Day gift ideas for fly fishermen/women. That got me to thinking about fly fishing oriented gifts that I have been given — some good, some well intentioned but not so good., the beautiful and the ugly.
So here's a list of 10 Valentine's Day gift ideas that cover both ends of the map. In this list you'll find fly fishing gifts under $10 to over $1000. To my fellow shopping haters, quit walking in circles with that dazed look in your eyes.
Here, my gift-seeking adventurers, is your compass…
7 Beautiful Fishing Gift Ideas
#1 – Fly Fishing Books
When I don't have time to actually go fishing, I often find the next best thing in fly fishing themed books. In another article, I mentioned the book A River Runs Through It, by Norman Maclean. I read the book before it was turned into a movie. Someone gave me that book for Christmas one year. It is one of my favorites. The book rekindled my interest in fly fishing, even though it is not a book about fly fishing. Fly fishing is a constant running thread throughout the novella. It is about family relationships. It is about the growing pains of life and the happiness of pursuit. The characters are quite memorable. The lessons have great depth and passion. That's it, it's about passions and love. Sounds like Valentine's Day to me.
Another set of books comes to mind that I have thoroughly enjoyed. The Travers Corners trilogy. Travers Corners, Return To Travers Corners and Travers Corners, The Final Chapters, by Scott Waldie. The books are set in a small town in Montana where everyone knows everyone, there are no secrets, and you don't need to read the newspaper to find out what's going on as long as you stop at the diner or the beauty salon once a week to keep informed. The main character is a fly fishing guide and a drift boat builder. Though the works are fictional, the characters are based on some of Waldie's closest friends, and the locations seem to be a blend of the small towns of Twin Bridges, Sheridan, Laurin and Alder, Montana. Each of those towns can be found just a few miles apart in the southwest part of the state on highway 287 in the Ruby Valley. I have been to those places, fished those rivers and met Waldie's friends. There is no mistaking the similarities. Waldie passed away a couple of years ago. I was at his memorial service on a hot day in July on the banks of the Ruby River. It was a wonderful service and the turnout was huge. The man really had a way with people and people loved him. Your people will love his books.
50 Places To Fly Fish Before You Die – Fishing Experts Share the World's Greatest Destinations by Chris Santella with selected photographs by R. Valentine Atkinson. My wife gave me a copy of this book for Valentine's day last year. This is a collection of short pieces on destinations from Alaska to Zambia. I love spending time in beautiful places where fly fishing often takes me. This book is no exception. It's a beautiful place, if that makes any sense.
Here's an excerpt from the dust jacket:
Through in-depth interviews with the sport's acknowledged gurus, author Chris Santella goes beyond standard guides to convey the very essence of the recommended locations. Readers can vicariously cast mouse patterns to 50-pound taimen in the wilds of Mongolia, wrangle with wily permit off the Florida Keys, and match the hatch on Montana's Armstrong's Spring Creek.
They said it better than I could. The pictures are fantastic. Did you notice the name of the featured photographer? R. Valentine Atkinson. It's a no brainer.
#2 – A Fly Or Two, Dozen
A flyfisherman or flyfisherwoman can never have too many flies. even if they tie their own flies.
Christmas before last, my sister-in-law handed me an envelope at our family Christmas dinner gathering. That year we had set a $25 max spending limit on the gifts to be exchanged. She handed me the envelope with a smile on her face. "Here you go, Merry Christmas, I hope you like it," she said while just beaming. I could tell she was proud of herself and the gift she was giving, but honestly, I had no clue what was inside the envelope. A gift certificate maybe? Sort of, but way better.
I opened the envelope and inside was a nice Christmas card and a certificate saying something like Merry Christmas, you have been given a subscription to The Monthly Fly Club. I looked up at her as she asked, "So, what do you think?" I remember having some lame response like "Cool, a fly fisherman can never have too many flies. Thank you." I tucked it away and forgot about it. A couple of weeks later in the mail was this little envelope with a small, plastic container enclosed. Inside the container was a half dozen Elk Hair Caddis flies. Also inside was a little note describing the flies and how to fish them. They were great! The right colors, right materials and tied really well. I picked up the phone and called her right then. I told her the first package of flies had arrived and they were great. She was thrilled. I was thrilled. Every month they came, every month I would remember her smiling face that Christmas and I would smile. There are several "levels" of subscription available to suit most every budget. I highly recommend this for the fly fisher in your life. I also highly recommend having a great sister-in-law like mine. Sweet.
#3 – Hat Eyes (a.k.a. Mag Eyes)
Shortly after I turned 40, I noticed my lack of focus. Not mentally, though that focus seems to slip more often as well. No, I mean my eyes. My eyes don't bring things into focus as quickly as they once did when working up close, as in doing book work in the office or trying to tie knots in fine tippet. Sometimes they won't bring things into focus period at less than an arm's length.
I was either gonna have to grow longer arms or get some kind of magnifying glass. (Oh, the joys of growing older.) I started looking for something to help.
I bought some of those reading magnifier glasses. They worked, but it was a real pain to keep track of those glasses while fishing. They also earned me the nickname Bob Newhart. Most of the time, I left them in the truck and didn't know it until I got on the river. When I did remember to bring them to the river, I was constantly switching between them and my sunglasses. I actually dropped the first 2 pair into the river.
I first saw Hat Eyes (which are similar, in effect, to those popular MagEyes) on the brim of my friend Grumpy's fishing cap. The little things clip right onto your cap with a spring clip. They flip up out of the way when you don't need them and are very light weight. These things are great! I can see clearly now.
By the way, my wife sometimes borrows my fishing cap now when she is working on a cross stitch project. Might as well get 2 of them.
#4 – Fly Fishing Lanyards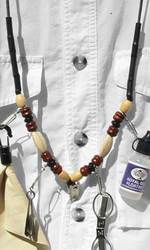 I'm talking about a heavy duty necklace looking thing with several swivel snaps attached along its length. A fly fisherman then attaches all of the little tools and gadgets used during fly fishing. It keeps them handy and organized and always within reach.
I never used a fishing lanyard before I was a guide. I used a vest and every pocket to stuff my stuff into. Yeah, I'd seen other folks using them but it seemed like too much of a necklace to me — kind of "girly" even.
One day, on the Missouri River in Montana, I was giving a fellow guide a hard time about his "necklace". He kept after me and said if I would ever try one, I would really like using one. He finally broke down and bought a Mayfly fishing lanyard for me and made me promise to try it. I tried it. I liked it. It's quite manly in a bear claw necklace that Grizzly Adams might have worn sort of way.
I don't know how I ever got along without one. It's handier than a pocket on a shirt!
#5 – Fly Fishing Tools and Gadgets
I'm a fan of the Dr. Slick brand.These would be things one could hang on their new lanyard.
They tend to be smaller items that are used very often during a day of fly fishing. They also wear out, so even if someone already has one of these, they could probably use a new one:
#6 – Fly Fishing Kayak
Boy, do I love boats. I've had several types of boats — from canoes to high-powered bass boats.
I've really come to appreciate human-powered watercraft since I began fly fishing. They are quiet, low-maintenance and usually cost tons less than a motor boat.
If your fly fishing sweetheart is longing to float, then you might want to consider a fishing kayak. Specifically, this Ultimate Angler from Native Watercraft.
It's much more stable than my canoe — which to me is very important, especially when fishing alone. These kayaks are virtually indestructible, and light enough to be car topped if you don't want to fool with a trailer.
These boats were designed by Jimbo Meador specifically for fishing. He's been fly fishing and boating his entire life. The design incorporates nice little touches that make a day's fishing much more enjoyable. I'm really excited to take delivery of mine.
#7 – Guided Fly Fishing Trip
First off, let me say you can't hire me. This is not my plug at trying to get a booking. Not that I wouldn't want to take you fishing, but I have an exclusive contract with my outfitter and that's just how it is.
This is my honest recommendation that you get that someone special a day's fishing with a professional guide.
I'd say an average price of a guided float trip is right around $400, plus a tip of $50 or more if you feel your guide has earned their keep.
No guide can promise that you will catch fish, period. We can't control Mother Nature. What a good guide can do is work his or her butt off to make sure that they do everything in their power to put you on fish. They can make sure they do everything in their power to see to it you have a good time and learn something — whether the fish cooperate or not.
How do you find a good guide? Good question and not real easy to answer, but I'll try.
I would start by checking with a long-established, local fly shop in the region you want to send your angler. Ask a ton of questions and be specific about your angler's level of experience — whether they are beginners or old pros. Ask for referrals.
Tons of guides are booked out of fly shops every day during the fishing season. I mean thousands and thousands. Some guides work directly for the fly shop, some don't. Either way, if a guide doesn't make and keep their clients happy, they're not going to be working as a guide for long because the fly shop can't afford bad guide experiences.
Just because someone knows how to catch a fish, doesn't mean they are a good guide. A good guide needs to be able to get along with people first and foremost. They must have a strong desire burning within to want to be part friend, part coach, part employee and part storyteller.
With your gift of a guided fishing trip, your angler will probably learn something and will probably make a lifelong memory.
And 3 Ugly Ones!…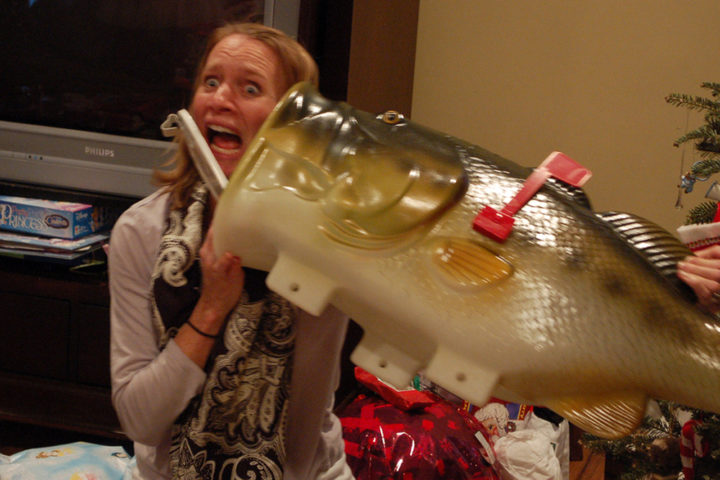 Here's the deal. My mother collected ceramic corn. You've probably seen the stuff; plates and butter dishes and platters shaped & painted like ears of corn. I was always finding a ceramic corn dish or vase or something and giving it to her. How was I to know there were different kinds of ceramic corn? She only collected the stuff made by one maker. The rest of it was just knock-off junk that she hid away and never put in her collection. One of my sisters had to point me in the right direction. I was guilty of uneducated gifting.
People that love you, always want to get you something they think you can use in your "hobby". Many times, these well meaning people don't know anything about your hobby but try anyway. That's nice. I know it's the thought that counts. A good thought that counts and gets used all of the time can be bought for the same amount of money as an uneducated thought that counts but never gets used and, in fact, gets shoved in the attic never to be seen again. Which would you rather give?
Here are 3 fly fishing gifts that I don't recommend. That is, unless you are trying to send a different type of message on Valentine's Day (like "I just wanna be friends").
#1 – The Singing Fish Wall Art
Okay, so the singing fish wall plaque is really cute for a few minutes. I actually bought one for my 4-year-old grandson. He played with it for about 2 minutes before the new wore off.
The good news is Travis The Singing Trout has been adopted by my 1-1/2 year old granddaughter! She loves to go push his buttons and rock out when Travis sings "Don't rock the boat, don't rock the boat baby."
Unless you want to rock your baby's boat, this is a don't.
Listen to Bud Light's Real American Heroes "Mr. Bass Plaque Maker":
https://flyfishing.thefuntimesguide.com/files/Bud_Light_Real_American_Heroes_Mr_Bass_Plaque_Maker.mp3

#2 – The Fishamatic Automatic Hook Setter
This is just something that is not used when fly fishing.
The Fishamatic Hook Setter is probably a fine product. There is just no use for it in fly fishing. PERIOD.
'Nuff said.
#3 – The Ronco Pocket Fisherman
My mother got me one of these when I was 13 years old. I tried it everywhere there was a puddle of water, except the bathtub.
Don't get me wrong. It worked as advertised, and I have no doubt millions of them have been sold. I wish I had invented and marketed this amazing piece of fish catching equipment.
I saw mine the other day in the far corner of the attic. It has moved with me from state to state, house to house, over and over again. It has not been used in 30 years. I simply cannot part with it because my mother gave it to me. Maybe that's why I bought her all of those cheap, knock-off corn dishes that are scattered about in her attic. Revenge. Bwahahahahahha.
Anyway, the Ronco Pocket Fisherman is not something a flyfisherman or flyfisherwoman that you love needs in their gear bag. Trust me on this one.
There you have it. A list of 10 fly fishing gift ideas for Valentine's Day — 7 beautiful ideas and 3 ugly ones.
Don't spend your time wandering around a store feeling lost. Go to the store, be lost no more. Go forth and buy. Go forth and give the gift that says "Be Mine".
I'm a fly fishing guide in Montana. One of my greatest pleasures in life is introducing people to fly fishing — watching them catch their first fish on a fly, and watching them 'get it' when it all comes together. I love sharing what I've learned in an easy-to-understand manner.