This post may contain affiliate links. If you buy thru these links, we may earn a commission at no additional cost to you.
---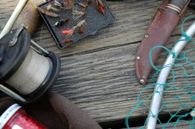 If you plan on taking up the sport of fly fishing, the equipment you choose will be imperative to your success.
Here are some tips to help you find the best gear and equipment for your first fly fishing outings…
These are the basic things you'll want to have on hand for your first fly fishing adventures:
Beginners and experienced fly anglers alike need a fishing vest and waders.
Fishing vests are designed to hold a variety of tippets, flies, fly dressing, extra leaders and a knife, as well as a snack. The vest you choose is up to you, just be sure that it has pockets of different sizes and that it's well-made and of good quality.
Waders help you stay warm and dry when inclement weather moves in. They are made of a variety of materials and come in different styles. Waders are a personal choice and you should purchase whatever is comfortable.
Besides these basic necessities, there are a few other accessories that will make your fly fishing adventure both safe and fun.
If you have these basic fly fishing items, then you'll be off to a great start. Additional gear and accessories can be purchased along the way as you gain more experience and fine-tune your tastes.
I enjoy writing about my life experiences — including the fun times I've had while fishing and enjoying nature. In my fly fishing articles I like to share helpful how-tos to help newbies grasp the most basic concepts of fly fishing.